Hey There,
Do you know what role does protein do in your body?
How much protein do you need?
What are the plant-based and animal-based sources of protein?
Does doing strength training exercises require more protein for your body?
Do you really need protein powder?
Want to know what a generic high-protein meal plan looks like?
We're sure you have many questions like these about protein in general.
And many more on how it impacts your diet, and therefore, your lifestyle.
Yep, you have come to the right place.
Come join us and get all your questions answered.
What we cover in this webinar
Webinar date and time:
3.00 pm, Saturday, 1st April 2023
Protein Requirements
Why Muscle Mass is Important?
How and When to take Protein Powder?
Will I get Health Issues if I consume Protein Powder?
What are the Sources of Protein Food?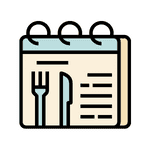 High Protein Meal Plan